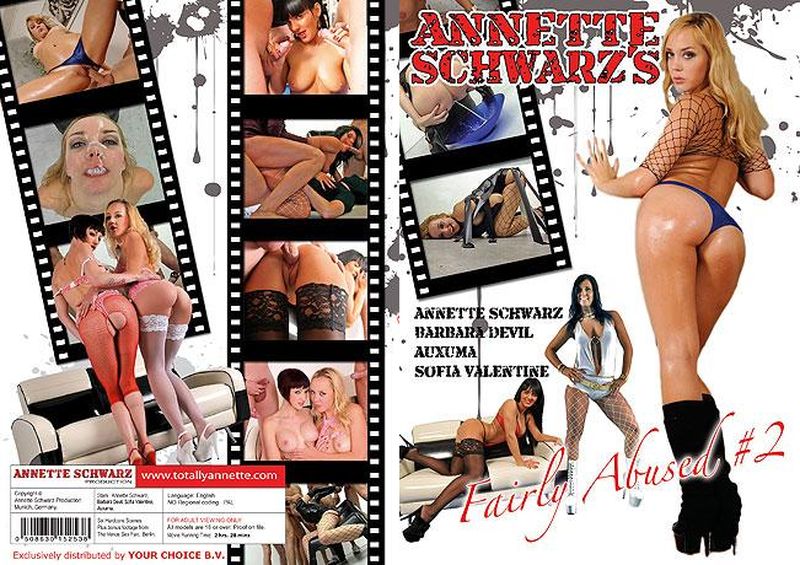 Production year: 2011 r.
Genre: Gonzo, Anal, DP, Oral, All Sex
Studio: Annette Schwarz Productions / Your Choice
Cast: Annette Schwarz, Barbara Devil, Sofia Valentine, Auxuma, and the studs.
Description: Annette is in her element with sperm fairly raining down on her naughty-little-girl face. Annette loves spunk so much, she even likes to fill her sinuses with semen by snorting it up her cute little nose. Annette claims it gives her a head-rush and a lovely jizzy afterglow, as the freshly squeezed man-cream coats her internal facial cavities. The show is an intensely animalistic sequel to Annette's DVD production debut and best selling show * 'Fairly Abused' # 1. Fairly Abused # 2 is even more shocking than its prequel. Stark and raw yet full of imagination and passion, Annette really gives of herself every second she is on screen. Nearly two meters of taut and tasty flesh, Annette unleashes herself on her fellow performers and viewers with utter abandon. Annette owns every dick and pussy in the show; giving and receiving pleasure with equal zeal. The girls whom Annette has chosen to join her in this production are Goo Girls of the same carnal caliber as Annette.!
Format : MPEG-4 at 1 938 kb/s
Length : 1.91 GiB for 2 h 20 min 45 s 744 ms
Video #0 : AVC at 1 677 kb/s
Aspect : 640 x 480 (1.333) at 25.000 fps
Audio #0 : MPEG Audio at 256 kb/s
Infos : 2 channels, 48.0 kHz
Hotlink
Takefile